The bathroom faucet is a really important part of any home. If it's not working properly or gets older then it's may need to change the faucet. That's why we are going to talking about "How to replace a bathroom faucet" in a proper way step by step. Let's start.
What You'll Need to Do this Project
⦁ Water pump pliers, also known as tongue and groove pliers
⦁ A flathead screwdriver
⦁ Teflon tape
⦁ A set of hex wrenches, also called Allen wrenches
⦁ Tape measure
⦁ Large zip lock bags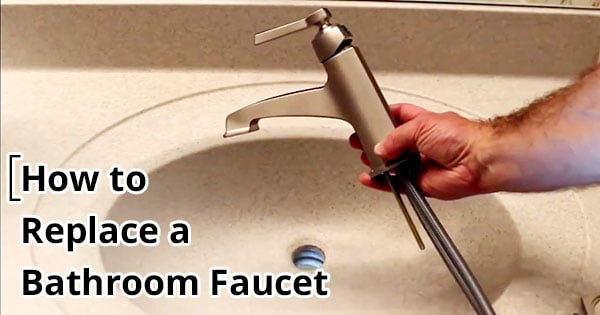 Step 1. Remove Your Old Spout
Before you start shopping for a new bathtub faucet, you need to know what type of setup you already have. To do this, it's advisable to remove your old spout first, and take it with you to your nearest hardware store so a salesperson can easily assist you in finding the right model.
To remove your spout, look underneath the bathtub faucet for a hexagonal set screw. Find the proper sized hex wrench and proceed to unscrew it. Next, pull the spout from the wall. If there is no hexagonal screw, then unscrew the entire faucet by hand, rotating it counter-clockwise to remove it. If the faucet is too tight, take your flathead screwdriver, insert it into the spout and use it as leverage. Place the faucet into one of the large zip lock bags.
Step 2. Measure the Spout Pipe
You'll now see a spout pipe, or connection pipe. Take your tape measure and obtain the length of the protruding pipe. Write down the inches, this is the size of faucet you'll need to shop for.
Step 3. Attach the Faucet
Screw Spout
Place your faucet on the pipe and tighten the hexagonal screw located on the underbelly of the faucet.
Threaded Spout
Take the Teflon tape, and wrap it securely around the threads of the connection pipe. Next, twist the faucet onto the pipe, rotating it clockwise. Take your water pump pliers and cover the gripping jaws with tape, so they do not scratch your faucet when you apply them. Take the water pump pliers, place them on the spout and give a final clockwise rotation to ensure it is tight.
Watch the video of replacing a bathroom faucet step by step!
See also:
---