Adding an undermount sink to your kitchen is a quick and easy way to update your decor and increase your home's value. When we set out to search for the best undermount kitchen sinks for granite countertops, we took a number of factors into account. First, we knew we needed to find sinks that were large enough to handle a variety of cookware, as well as deep enough to prevent splashing, and also it's suitable for granite countertops with considering the kitchen sink material. Then, we needed to make certain that the brands we selected had maintained a solid reputation by creating durable and long-lasting sinks. Finally, the overall customer satisfaction rate of each type of sink, as well as its affordability, were taken into account.
Comparison of the Best Undermount Kitchen Sinks for Granite Countertops
| Product | Weight | Size | Editor's Rating | Price |
| --- | --- | --- | --- | --- |
| ZUHNE Modena Under Mount Kitchen Sink | 32 lb | 30 x 18 x 10 in | 5.0 | Check Price |
| Ruvati Undermount Kitchen Sink RVM4250 | 29 lb | 18.1 x 30 x 9 in | 5.0 | Check Price |
| Kraus KHU100-30 Kitchen Sink | 21.2 lb | 30 x 18 x 10 in | 4.6 | Check Price |
| Ruvati Tight Radius Kitchen Sink RVH7400 | 39.6 lb | 19 x 32 x 10 in | 4.7 | Check Price |
| Kraus Standart PRO Kitchen Sink, KHU100-32 | 26 lb | 32 x 19 x 10 in | 4.6 | Check Price |
| Frigidaire Undermount Stainless Steel Kitchen Sink | 38 lb | 28.5 x 18.5 x 10 in | 4.8 | Check Price |
| Kraus KBU22 Double Bowl Kitchen Sink | 18.9 lb | 32.2 x 18 x 8.5 in | 4.6 | Check Price |
| Elkay Quartz Classic ELGU2522WH0 Sink | 26 lb | 24.6 x 18.5 x 9.5 in | 4.8 | Check Price |
| Swanstone QZ03322LS.077 Granite Mount Kitchen Sink | 30 lb | 10 x 22 x 33 in | 4.5 | Check Price |
| Kraus Standart PRO Kitchen Sink, KHU103-33 | 43 lb | 32.8 x 19 x 10 in | 4.7 | Check Price |
#1. ZUHNE Modena Undermount Kitchen Sink
(Best for Overall)
Our top pick for the best undermount kitchen sink is Zuhne's Modena single bowl kitchen sink. Crafted from top quality, industrial strength, 16 gauge T304 stainless steel, this sink is designed tough to endure the washing of pots, pans, and related cookware. Made with 25 percent more steel than its competitors means that the Modena will not warp, dent, or bow under normal conditions. With a bowl size of 28 x 16 x 10 inches, it's large enough to handle the heaviest of pots with ease. The Modena's design also means that it will not rust. If you like to wash dishes at night, you'll be pleased to know that the Modena is made with sound dampening technology, so the clattering of plates and clashes of silverware won't wake your family. Your purchase comes with a 3 piece, stainless steel basket strainer, mounting hardware, cutout template and bottom grid. It's really good to fit the Zuhne Modena Sink for the granite countertop in our testing lab.
#2. Ruvati RVM4250 30-inch Undermount Kitchen Sink
The Ruvati RVM4250 Single Bowl Sink is our choice for the sink that gives you the best value. Its stylish, contemporary design takes the removes the standard, hard edges of most rectangular kitchen sinks, and adds a curved, organic line to the sink. The Ruvati RVM4250 is constructed from 16 gauge, premium T304 stainless steel, which makes it impact and scratch-resistant. Also, Ruvati's high-quality, satin finish is easy to clean and maintain. Soundproofing is a big part of the design. Crafted with top-quality SoundGuard padding, you'll be able to wash the dishes even at night, without making so much as a clank or clash. It also saves your counter space.
#3. Kraus KHU100-30 Kitchen Sink
Our third choice for the best undermount kitchen sink is the Kraus Standard Pro 30 inch single bowl. If you're in the market for a utilitarian sink, with a design that takes no shortcuts when it comes to durability and ease of maintenance, then we suggest you give this model a second look. Like the others on our list, it's made from quality T304, TRU16 16 gauge stainless steel, with an attractive, scratch and dent resistant satin finish. With a gently sloped base, you're guaranteed complete drainage, and its NoiseDefend soundproofing tech absorbs both noises from dishwashing, as well as your waste disposal unit. Your purchase also includes a stainless steel bottom grid, 3-piece basket strainer, mounting hardware, cutout template, and Kraus kitchen towel.
#4. Ruvati 32-inch Undermount Kitchen Sink RVH7400
The spacious Ruvati RVH7400, undermount kitchen sink measures 32 x 19 x 10 inches overall is perfect for a large household, or for someone who enjoys entertaining. It's available in different depths and sizes at Amazon. Our number 4 pick is crafted from high-quality T304, 16 gauge stainless steel, this easy-to-maintain and clean kitchen sink comes with a classic, scratch-resistant brushed finish. Noise reduction is accomplished by its SoundGuard undercoating and rubber padding. The base of the bowl is designed with a sloping bottom, complete with drainage grooves that facilitate water drainage to its 3.5-inch drain opening. The 10mm Tight radius inner corners make for easy cleaning. Your purchase includes a basket strainer and stylish drain cover.
#5. Kraus Standard PRO KHU100-32 Undermount Single Bowl Kitchen Sink
The Kraus Standard PRO, model KHU100-32 can take whatever you throw at it. This scratch and dent resistant single bowl undermount kitchen sink is made with tough T304 stainless steel in TRU16 real 16 gauge. This model by Kraus features NoiseDefend technology, which makes it one of the quietest sinks on the market with its SoundGuard undercoating, and its lovely, satin finish is commercial grade so you don't have to be that concerned with scratches and scrapes. This oversized sink comes with some useful accessories such as a stainless steel dish grid that protects the sink bottom, a 3-piece basket strainer set, a Kraus kitchen towel, cutout template and mounting hardware.
#6. Frigidaire Undermount Stainless Steel Kitchen Sink
Frigidaire is an appliance manufacturer with a long and rich history of crafting some of the best appliances on the market, and this is no exception. Made with commercial-grade, 16 gauge, T304 stainless steel, it comes with a 10mm tight radius design for the corners for ease of cleaning and maintenance. Part of the Frigidaire Professional Series, the sound is controlled via Frigidaire's V-Therm Shield tech which works to both retain heat and dampen noise, so you're free to clank those dishes at midnight without causing a fuss. Your purchase includes a stainless steel dish rack, bottom grids, basket strainer, plus all necessary mounting hardware and a cutout template. The interior dimensions for this model are 27 x 17 x 10 inches.
#7. Kraus KBU22 32 inch Undermount 50/50 Double Bowl
If the idea of a single bowl undermount kitchen sink doesn't fit into your plans, then take a good look at the Kraus KBU22, 50/50 split double bowl sink. A 50/50 split means that each bowl has the same dimensions, design and quality. made with high-quality T304, TRU16 16 gauge stainless steel that resists rust and scratches, this tough and durable undermount kitchen sink also comes with NoiseDefend technology to help tone down the dishwashing din. The underbelly of the sink has been given a protective undercoating which reduces cabinet damaging condensation. As for drainage, the bottom is sloped which moves water toward the 3.5 inch drain. Your purchase includes the cutout template and all necessary mounting hardware.
#8. Elkay ELGU2522WH0 Gourmet Quartz Undermount Sink
The easy-to-clean and maintain Elkay Gourmet Quartz Classic undermount kitchen sink requires nothing more than a wipe down with a cloth and soapy water to keep it in good condition. A perfect choice for those of you who have tired from the metallic look of stainless steel. It's available in different colors at Amazon. This heat, scratch and dent resistant rectangular sink have been molded from top-quality quartz sand and acrylic resins can withstand temperatures up to 535 degrees Fahrenheit. One of the main advantages is this single bowls' hygienic surface is nonporous, which means that stains won't sink in, so the surface stays new and fresh. This is why it's can keep the beauty of your kitchen easily.
#9. Swanstone QZ03322LS.077 Granite Kitchen Sink
Stainless steel sinks are a good value, but they are not for everyone, nor do they fit into every kitchen decor. That's where the Swanstone granite kitchen sink comes in. Crafted from 80 percent quartz and 20 percent acrylic resin, this double bowl kitchen sink comes with an organic design, with flowing contours favoring the motion of water. Swanstone created a low divider to ensure that users would have no issue transferring cookware from one bowl to another. Though it's come from the family of drop-in sinks, you can also install it as an undermount.
#10. Kraus Standart PRO KHU103-33 Undermount Kitchen Sink
If you're in the market for Kraus quality, but prefer a 50/50 split double bowl to the one-size rectangular, then the KHU103-33 is a good model to examine. Made with the same premium quality, impact-resistant T304, TRU16 real 16 gauge stainless steel, you'll find its lovely satin finish makes clean up easy, and corrosion a thing of the past. Made with NoiseDefend Technology, its SoundGuard undercoating and thick padding ensure that both waste disposal and dishwashing noise are kept to a minimum. This kitchen sink includes 2 dish grids that protect the bottom, a 3-piece basket strainer set, and a drain assembly, strainer, and Kraus kitchen towel. As for drainage, the bottom is gently sloped so water doesn't pool, but drains completely.
How to Install an Undermount Sink to a Granite Countertop
In all truth, the professional installation of an undermount sink is a pretty simple affair. The first step is to assemble your tools. Please note, that the instructions and tools suggested are a guide. It is crucial that you follow the instructions that come with the sink you purchased. Here is a list of suggested tools:
Drill
Saw
Epoxy
Denatured alcohol
2 x 4
Bar clamp
Clean soft rags
100 percent silicone sealant
Mounting hardware
If this is a fresh countertop, you'll have to cut the hole. Most undermount sink manufacturers provide you with a cutout template. If not, then you'll have to measure your sink in order to cut the proper size hole in the granite countertop. Remember, measure twice–or more, and cut once. Please note, if you are not handy or well experience with tools, it's best to hire a professional to make the hole.
Now it's time for a trial run or dry mount. This means that you're going to check for fit. Take the sink and place it in position by inserting it from underneath. Make certain that the rim sits below the countertop. If all is well and good, proceed to prep the sink.
Take a clean, soft cloth, add a bit of denatured alcohol, and wipe the area of the sink that will come in contact with the granite, as well as the underside of the granite countertop, where it makes contact with the sink.
An undermount sink is held in place by clips. Some manufacturers provide clips that use epoxy, others require holes to be drilled. If yours requires holes, then proceed as follows. While the sink is in position, carefully mark where holes need to be drilled into the granite countertop. Once marked, remove the sink and proceed to drill the holes. Clean the ridge using denatured alcohol or acetone. Let dry.
Take your silicone sealant and place a thin layer on the sink lip–wherever the sink will come in contact with the granite.
Take two folded towels and place them on either side of the sink top. You will place the 2 x 4 on these towels. Take your 2 x 4 and place it lengthwise over the sink top opening, atop the towels. Take a bar clamp, and fit it over the wood and into the drain hole of the sink. If you wish, you may place a piece of wood or towel between the clamp under the sink, to protect the finish.
Raise the sink until it meets the bottom of the counter. If need be, adjust the clamp so everything is held together perfectly. If you have a double bowl sink, then use two bar clamps. If you have to adjust your position, do so by gently tapping the sink with your hands.
Remove any excess sealant that appears with a clean, soft rag and denatured alcohol.
As noted above, depending on your mounting hardware, you'll either be attaching the mounting clamps using epoxy or by inserting screws in the holes you've already drilled.
Take a soft cloth and go over the interior of the sink again, removing any last bits of silicone. At this point, all that's needed is for you to keep the clamps in place, so the silicone can cure. It must do this for 24 hours.
Final Thoughts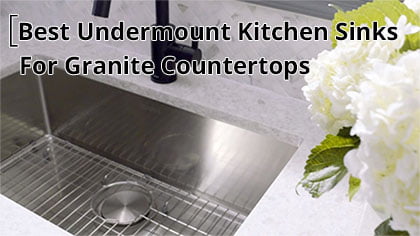 The installation of an undermount kitchen sink is a relatively inexpensive way to accentuate the decor of your kitchen or bring it up to date, giving it a more modern flair. The models in our review of the best undermount kitchen sink for a granite countertop are made to help in making the proper decision for you. We've included both stainless steel sinks, as well as composite granite sinks. All of the brands are well-respected and offer their customers superb customer service. We hope you've enjoyed our article, and that it helped you to locate the perfect sink for your kitchen.
See Also: