Choosing a waterproofing membrane is complex and even more so if we are talking about Hydro Ban, Redgard, and Mapei Aquadefense. To make your life easier we will tell you some of the main advantages and uses of each of these brands.
Related:
Best Uses of Hydro Ban, Redgard and Mapei Aquadefense
Waterproofing membranes such as Hydro Ban, Redgard, and Mapei Aquadefense are perfect for covering cracks on any surface. Imagine that on the floor of your house or in the wall of your room, a horrible crack appears, well, with these products you will solve that problem.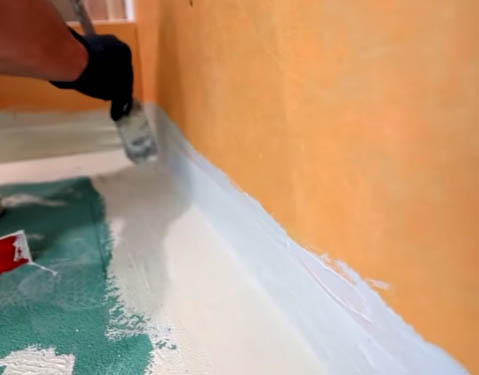 The best part is that these products can adhere to any type of substrate or surface. One of the most common uses for Mapei, for example, is crack insulation, and it dries fairly quickly.
What if the crack is in ceramic or tile? You will still be able to cover it; both Mapei Aquadefense, Hydro Ban, and Redgard work on all surfaces. So yes, we can say that the main use is to cover any crack or hole whether it is in your home, office, or sidewalk.
Advantages and Disadvantages of Hydro Ban, Redgard And Mapei Aquadefense
Of course, talking about the different advantages and disadvantages of Mapei Aquadefense, Hydro Ban and Redgard is very simple since they are top-quality products and are among the first on the market. However, we will divide these pros and cons between each brand in order to be more specific.
| Product | Insulation Capacity | Drying | Odor | Minimum Coats | Average Price |
| --- | --- | --- | --- | --- | --- |
| Mapei Aquadefense | Good | 30 – 50 minutes | No | 2 coats | $65 – $360 |
| Redgard | Ok | 1.5 – 2 hours | Slightly have | 2 coats | $60 – $240 |
| Hydro Ban | Good | 2 hours | Yes | 2 coats | $101 – $420 |
Advantages of Mapei Aquadefense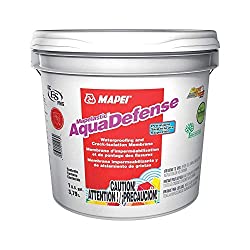 Disadvantages of Mapei AquaDefense
---
Advantages of Redgard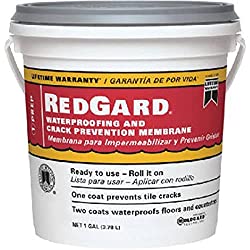 Disadvantages of Redgard
---
Advantages of Hydro Ban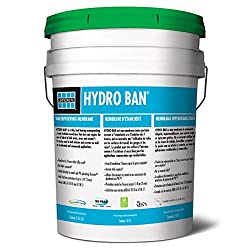 Disadvantages of Hydro Ban
---
Which Is The Best To Use As Waterproofing In The Shower?
Defining the best use of these three products is complex because each one can be used very well depending on the surface and what you want to use it for. So, you just need to define on which surface it will be used.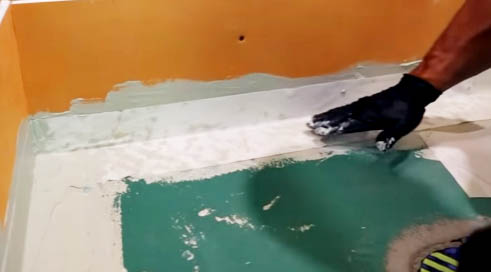 Hydro Ban:
This flexible, seamless, self-curing liquid can be used on virtually any surface. Hydro Ban can be perfect for use in the shower. Its high water resistance makes it easy to use and fast drying. It is undoubtedly the star product for many.
Redgard:
Redgard is mostly used on drywall. This is a great advantage since not all products of this type can be used on plaster. It can even be applied on wet plaster without any problems.
Note that Redgard can also be used over an anti-fracture membrane, as long as this product is carefully prepared on plywood.
One thing to keep in mind is that this product, while it works, is not completely suitable for topical waterproofing membranes. However, it can be resistant to green board.
Mapei Aquadefense:
In the case of Mapei, since it is a painless product, it is best used indoors, whether it be floors, walls, ceilings, etc. If you want to use it in steam rooms, it will be necessary to apply a protective barrier.
However, it is a product that can be used on virtually any surface and works perfectly for underwater areas. Of course, it has a waterproof membrane that facilitates this use. In addition, it is a product that will adhere to any surface.
Frequently Asked Questions
Is Redguard Elastomeric And Toxic To Repirating?
Redguard is indeed elastomeric but it is not toxic to health. However, the odor is what can be most annoying.
Can Mapei Aquadefense Be Used Outdoors And Be Used In The Shower Tray?
Yes, indeed Mapei can be used without problem for all these functions.
How Long Does Hydro Ban Take To Dry?
Hydro Ban takes 2 hours to dry on dry surfaces and 12 hours on wet surfaces.
You might also like
Sources: